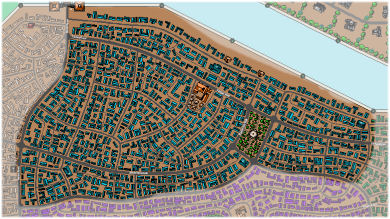 Fairfield lies north of the Outlands and buts onto the river Dunne. The area gets its name from the traveling fairs and markets that were held on the land before it was developed.
Fairfield is largely home to trade caravans and many teamsters and labourers. In the centre is the new Fairfield Watch House and the War Memorial, built in 1024TA to commemmorate the dead of the civil war.
Just of Blacksmith's Walk, in the southern part of the district ia an inn named The King's Highway. This is a fine Inn offering good food and lodgings at fair prices, though it is often very busy. Further down the street you will pass the Corn Exchange, a decent tavern.