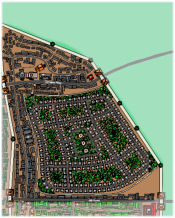 The Boneyard is the name given by the locals to the area around the old cemetary. The city's original Phaedran and Orlothian Cathedrals can be found here. There is also a small paladin chapterhouse and an abbey run by the Sisters of Mercy.
There is a small shop, Venor's Fine Candles, just outside the cemetary selling a variety of candles for visitors.
The only other mentionable building is the Sanitorium, an asylum for the mentally ill.