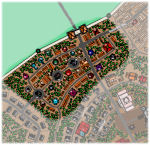 The Bazaar lies inside the King's Gate, at the foot of Norn Hill. This district was once part of Norn Hill, but over the last few years it has become home to a number of sorcerors and wizards. This has caused many unusual shop-keepers to set up shop in the area.
The Alchemist, Thoronath, Minalcho's Remedy Shop and Fram's Scroll & Parchment Shop are the pick of the mechants in the area. though Thoronath's prices leave a lot to be desired.
There is only one inn in the area called the Hog and Hole. The service in this quiet little place is exceptional as is the food and drink - but you do pay for the privelige.